The SensorGateway

: IP based temperature monitoring sensor and base unit

Some of ServersCheck's customers:


Web server for easy administration.
The unit has a built-in web server. This enables you to configure, read sensor data, define alerts and more.
more screenshots

Alerting via email, SMS or voice call.
Want to be alerted when thresholds are exceeded? The device can itself send out alerts via email, SMS or as a voice call.
Emails can be configured to be sent using your mail server or public mail servers like Gmail. SMS & Voice call alerts are sent through our gateway. Credits are included in the
Premium plans
more on SMS or voice call alerting

SNMP ready with built-in SNMP agent.
Supports SNMP v2 & v3 with following SNMP commands: GET, GETNEXT, SET, WALK & TRAPS.
This feature allows you to integrate the devices with any SNMP or DCIM software. It makes the base unit by default an SNMP temperature sensor.




Built-in temperature sensor.
The onboard temperature sensor makes the device an SNMP, Modbus, XML and IP Ethernet temperature sensor in a box. For higher accuracy, the temperature sensor is mounted externally on the base unit.

PoE, USB or DC Powered

The base unit is by default powered over PoE.
No PoE? With the optional BASE-PWR you can power it with a wall adapter.

USB? The USB to DC power cable enables you to power the device from any 2A power source (wall adapter, PC, battery bank, ...)

Running it in an industrial environment? Our optional DC to DC step down modules allow you to connect it to 12v, 24v and -48v inputs.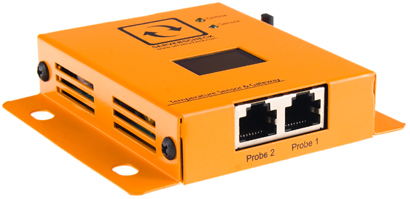 Supports up to 2 external
sensors
or up to 8 with optional
sensor hub
connect any of our environmental, security, power or industrial sensors like the following: temperature, humidity, power failure, power curent, flooding, airflow, dust, sound, shock, dry contacts (smoke, motion, door contact, ..)

Oled display
the display shows the IP address of the device and the current values of its built-in ethernet temperature sensor and connected external probes

XML output

the device outputs sensor values and alert logs in xml so that data from the device can be easily processed by 3rd party applications

Compatible with many monitoring tools

using SNMP the sensorgateway can be integrated with many different tools such as Schneider, Emerson, IO, Nlyte, iTracs, HP OpenView, IBM Tivoli, CA, BMC, IO, Modius, MRTG, Cacti, Nagios, Zenoss, ManageEngine, Ipswitch WhatsUp, Paessler PRTG, Solarwinds & more ...

Sensor Calibration
The temperature sensor is factory calibrated prior to mounting into the Sensorgateway, the base unit. Regardless of the vendor, it is recommended to get temperature sensors calibrated at least once a year. Customers purchasing a new unit can also get an optional calibration certificate for every base unit they purchase.
learn more on our lab and our calibration services

SensorGateway Technical Specifications (BASE-WIRED)
Operating temperature range: 0°C to +75°C (+167°F).
Operating humidity range: < 90% rH (non-condensating).
Dimensions: 70 mm (2.7") x 88 mm (3.4") x 22 mm (0.8").
TCP/IP: IPv4 at 10/100 Mbps.
Power Source: PoE: IEEE 802.3af
Power Usage: 1500mW (without sensors attached).
Built-in: web server, SNMP v1, v2 & v3 (MD5/AES), Modbus TCP (soon).
Built-in alerting options: email SMS (over IP) & SNMP Traps.
External sensors probes: 2 sensor probes through straight RJ45 cable with max distance of 10m or 30ft.
Max distance to switch: depending on cable quality up to 100m / 300ft.

Built-in Temperature Monitoring Sensor Specs:
Temperature Resolution: 0.1°C / 0.18°F.
Temperature Reading: -55°C to +125°C (-67°F to +257°F) / SensorGateway operates up to 75°C.
Temperature Accuracy: +/- 1°C (+/- 2°F) over 0°C to +75°C / 32°F to 167°F.

Testing: Base units are compliant with FCC and CE standards.
Use: The SensorGateways should only be used as industrial or commercial test equipment.
BASE-PWR: Optional Power Adapter for SensorGateway.
Default power is through PoE. Customers not having PoE can use Power Adapters.
Power Adapter Style: EU, UK or US
Power Adapter Specs: 12 VDC/0.5A, switching, 3.5mm connector.
External Temperature Probe and Built-In Temperature Sensor Speficic Data.
Temperature Resolution: 0.1°C / 0.18°F precision.
Temperature Reading: -55°C to +125°C (-67ºF to +257ºF) / SensorGateway operates up to 75°C (167°F).
Temperature Accuracy1: +/- 0.5ºC (+/- 0.9 ºF) over 0ºC to +75ºC / 32°F to 167°F.
Readings in Celsius or Fahrenheit.
1: Built-in temperature monitoring sensor has automatic calibration upon restart and while calibration is performed accuracy is +/- 2ºC (+/- 4ºF).
2: SMS messages are sent via the Internet through a ServersCheck hosted service - requires an account with sufficient credits.
3: For email a non SSL enabled mail server is required.
4: *Free cloud platform is a temporary promotion.

Key features of the ServersCheck SensorGateway:
1) Built-in temperature sensor makes it an ethernet temperature sensor for monitoring temperature. For higher accuracy, the temperature sensor is mounted outside the enclosure.
2) host for external
sensor probes
like following:
temperature
,
humidity
,
power failure
,
water/flooding
and
shock / vibration
3) Power Over Ethernet: the sensors no longer require a power adapter but can be powered through the network. Compliant with the PoE IEEE 802.3af standard. No PoE? You can have them with an optional power adapter too (BASE-PWR).
4) SNMP & SNMP Traps: You can integrate ServersCheck's sensors with the Monitoring Software or Monitoring Appliance from ServersCheck. Using SNMP it also integrates with other management systems. Examples are as Nagios, MRTG, Tivoli, HP OpenView, Whatsup, Ciscoworks, Big Brother, Castle Rock, OpenNMS and more... Click here to see how ServersCheck's sensors work natively with Nagios.
5) Mobus TCP: with this protocol, you can integrate the ServersCheck sensors into new Building Management Systems. This gives not only IT access to the sensors but also the facility team.
6) Industrial grade: the Sensor Gateway is made of industrial grade parts: from its steel frame to the components inside the box. The Sensor Gateway is designed to meet the CE industrial class requirements. On top of the parts and needs, the Sensor Gateway has been tested to operate without problems for a minimum of 48 hours in an environment at a temperature of 75°C / 167°F.
7) Web enabled: Through the built-in web server you can view the live status and manage the device. View screen shots here
8) Autosensing: When a sensor is connected to the SensorGateway (shown left), then the gateway will automatically detect and configure the sensor connected to it.
9) Stand-alone alerting: the sensors can autonomously generate alerts via email (SMTP) and SNMP traps, no need for other software.

Tips for Mitigating Server Temperature Emergencies
It doesn't take long for a damaged fan or malfunctioning heat shield to shut your server down for good. High temperatures will damage motherboards and components just as fast as power surges do.
And, just like surge damage, heat-related incidents usually involve multiple components and often result in data loss as well.
The problem is, heat-related problems can occur at any time, and there's no guarantee that your team is going to be standing in front of the machine when it happens. Because the difference between average and excessive operating temperatures isn't that great, and temperature escalation is rapid once protection systems fail, it's important to take a proactive monitoring and defensive stance.
One of the best ways to guarantee that you stay in the loop when it comes to server emergencies is to use ServersCheck's Ethernet and IP temperature sensors combined with its monitoring and reporting system.
When the IP temperature sensor enabled base unit detects a temperature rise that's above your pre-defined threshold, it transmits an alarm which can be received via SMS/ Cell phone text messages, E-Mail, MS-Messenger, and much more.
In addition to sending the alert, the higher-level monitoring systems can also execute any external process including performing an orderly server shutdown. Some systems also are capable of running an HTTP Get request with pre-defined parameters.
When you use an enhanced monitoring system, you not only ensure the integrity of your network, but you guarantee 24/7 emergency response even if your data center is unmanned when the emergency event occurs, and no one is available to receive the alarm.
IP Temperature monitoring is like performing system backups. It only takes one catastrophe to make you wish you had addressed the issue before the problem arose.
Whether you're responsible for one server or one hundred, you can assure that your network is protected against temperature-related. Get your sensor now.