Data Center & Server Room Monitoring with ServersCheck
ServersCheck offers a modular, scalable and affordable solution to monitor your data center. It fits data centers of any size: from just a few racks to thousands of racks.
The sensors are connected to base units that are stand alone devices. The base units operate on their own. No subscription or software required. They have built-in email and SNMP trap alerting capabilities.
The entire solution is modular: you just take the sensors you need and you can always add more sensors later based on your actual and future needs.
Not sure what you need? Then check out our
best practices for data center monitoring
based on industry standards.

Wireless Temperature & Humidity
sensors for rack monitoring

Thermal Image Sensor
ServersCheck introduces the world first SNMP & Modbus
thermal image camera sensor
. Non stop it scans temperature in 4800 points within its 50° Field Of View.
You can use it to detect thermal runaways in your hot and cold rack aisles, replacing the need of deploying multiple temperature sensors per rack.
Inside ATS and power cabinets it can monitor for thermal runaways of contacts that would checked periodically using a thermal heat gun.

Leak Detection
Our leak detection sensor is capable of detecting water leaks under raised floors, HVAC units, pipes and more. An alert is triggered whenever water touches the cable. The cable comes in a standard length of 20ft can be expanded up to 200ft.
With the option
Monitoring Software
get visual leak mapping based on your floor plans.
Integrates via SNMP with your NMS and thru Modbus TCP with your BMS.

18 Different Sensors
to monitor your data center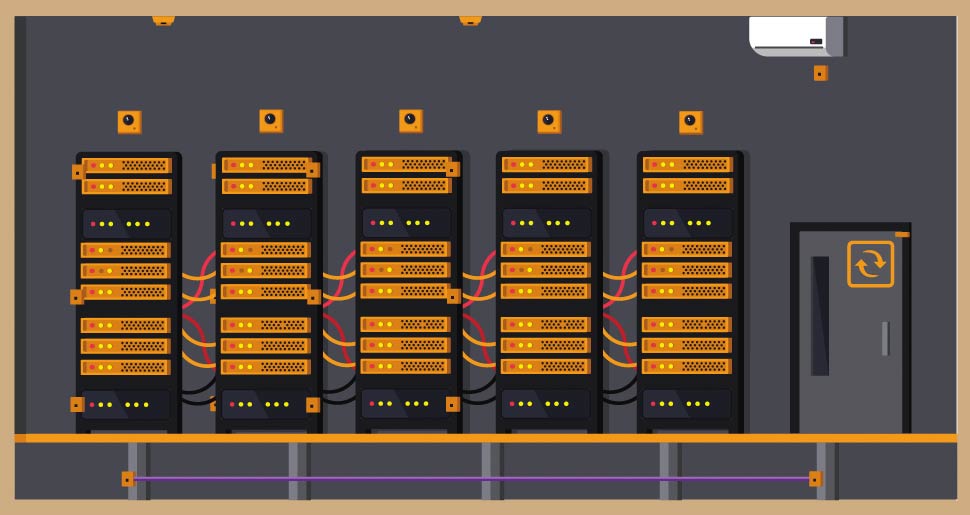 Data Center Power Room

DCIM & NMS Integration
Next to Modbus and XML, our hardware supports SNMP. Through SNMP it can be
integrated
with many different DCIM from vendors like Schneider, Emerson, iTracs, Nlyte, Raritan, Panduit, IO & more.
It also works with popular SNMP management tools like HP OpenView, IBM Tivoli, CA, BMC, IO, Modius, MRTG, Cacti, Nagios, Zenoss, ManageEngine, Ipswitch WhatsUp, Paessler PRTG, Solarwinds & more ...
Check out the different
integration manuals
for some of the most popular SNMP tools.