Alerting features of the ServersCheck Monitoring Software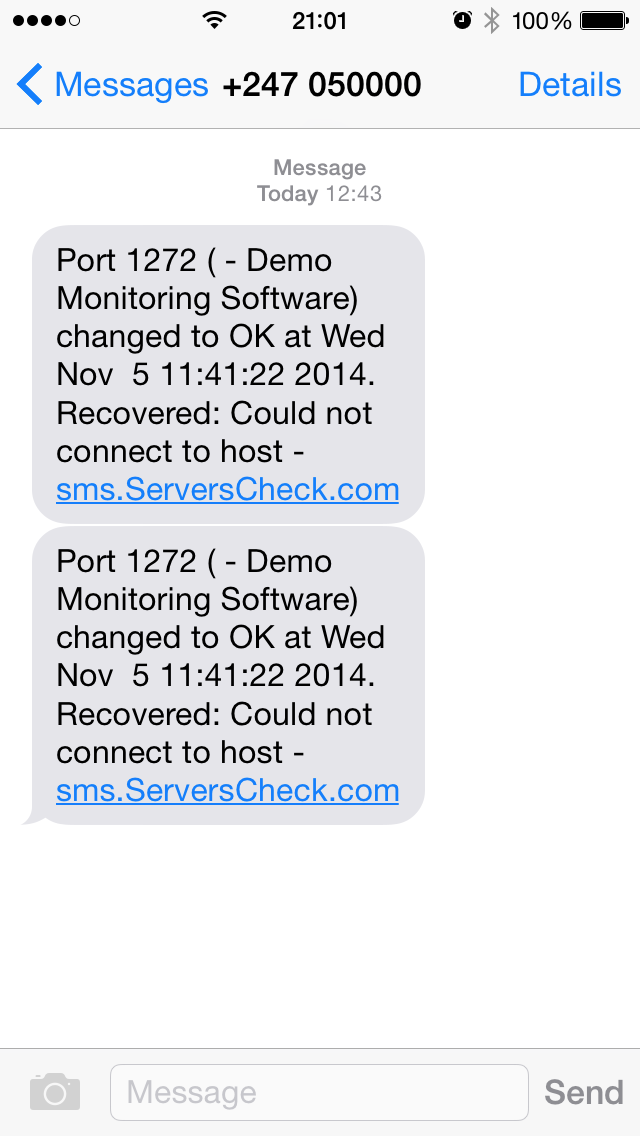 Business has become dependent on the availability of IT systems and nothing is more disturbing than having a customer reporting that a system failed.
With the alerting features available in the ServersCheck network monitoring software, you will be notified automatically when a system does not perform as expected. If the recipient does not respond in the expected time frame, then the alert can be escalated to a different team member to ensure reception of the alert.
The free version of the Monitoring Software can not only alert you via email but also via SMS or through a voice phone call. When using the SMS or voice call, the software connects to the ServersCheck Alerting Gateway. Our back-end systems will then translate the alert message to a cell phone text message or using text-to-speech technology our systems will call you.
With the optional SMS Modem add-on* you can even go a step further.
From expensive to open source monitoring solutions, they all use network based alerting capabilities such as email. But how do you get alerts if your network is down? As all network protocols fail you won't get any alerts unless you have this add-on from ServersCheck.
With the add-on ServersCheck can send alerts via SMS using a GSM modem directly attached to the server so that you get alerts even when your entire network is down!
Email alerting
ServersCheck can notify you per email using either its built-in mail server or any outgoing SMTP server (using basic authentication or not). The content of the email can be customized using predefined variables.
SMS / Text Messages alerting
When an alert message needs to be sent, the Monitoring Software connects to our Alerting Gateway to have it deliver the SMS or voice call.

With the optional SMS Modem Add-on*, the SMS (text messages) alerts are sent using the included modem over the mobile cell phone network. In the US it works with AT&T or T-Mobile. Using a modem to send SMS or cell phone text messaging allows you to be notified of problems even when your TCP/IP network is down.

* SMS Modem Add-On will be available for purchase in Q1 2015


Team based alerting
This option enables users to define alerting methods (such as SMS, email, MSN,...) based upon specific user profiles by looking at the time of the day and the day of the week. For example you could have in one team emails being sent out during office hours and SMS alerts after office hours and during weekends.